With only a week left in 2016, the Bramshill team reflects on our blogs from this past year. We sincerely appreciate each of you for subscribing and reading our thoughts on the market. We hope this information has been useful.
Below, we have highlighted our top 3 most popular blog posts from 2016. Enjoy!
Best Regards,


Steve Selver
Chief Executive Officer
Main Office: 201-708-8150
Stephen@BramshillInvestments.com
Bramshill Investments

Connect with me on LinkedIn
Follow Bramshill Investments on LinkedIn

Learn more about Bramshill's current outlook on the fixed income markets.
Access the Bramshill Q3 Investor Letter here.
---
GOT QUALITY YIELD? WHY LIQUIDITY IS NOT FREE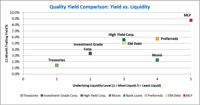 We talk to RIAs, wealth management firms, and institutional investors often. It's one of the more fun parts of our jobs at Bramshill Investments. Since we consider our role as problem-solvers in fixed income, we're always asking about the current challenges RIAs are facing with regards to portfolio construction and sharing our views on the risk reward of various asset classes and sectors in fixed income. Lately, the common concern RIAs have shared has been around constructing asset allocation models within fixed income – how to source yield while appropriately managing for interest rate risk and credit risk.
---
WHY YOU SHOULD CONSIDER LIQUIDITY RISK IN HIGH YIELD AND FIXED INCOME INVESTMENTS



From the Desk of Art DeGaetano.
Investors are reaching for yield. What risks are they willing to trade for their desired outcomes? Given our mandate at Bramshill Investments, to provide absolute return solutions in fixed income and income producing assets, clients and prospects often ask us about risks in fixed income. From our conversations with advisors lately, we have been thinking more about liquidity risk. Advisors have shared with us their challenges in building asset allocation models in fixed income – sourcing yield while managing interest rate and credit risk, but we wonder what thought is being given to liquidity risk.
---
BRAMSHILL CHARTS: PRICE DETERIORATION FROM RISING INTEREST RATES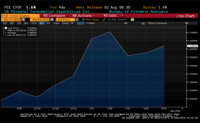 Investors are actively searching for yield while focusing on both interest rate risk management and credit risk management. With rates so low (sub-zero in many parts of the world), what is the outlook on interest rates from here? How do investors position their portfolios accordingly? At Bramshill Investments, an asset manager offering absolute return solutions in fixed income and income producing assets, we shared our perspectives in a recent market commentary. As part of our market insights, we included macro analysis on the potential impacts of rising interest rates.
---