New York, NJ (December 17, 2020) – Bramshill Investments has won two awards in recognition of the firm's 2020 performance. The Bramshill Income Performance Fund has been acknowledged as the winner of the 2020 AltCredit Credit, Credit 40 Act Award. The Bramshill Income Performance Strategy has been acknowledged as the winner of the 2020 Pension Bridge, Multi-Asset Class Strategy of the Year Award.
Bramshill seeks to harness the best risk-reward investments across fixed income with a flexible and opportunistic mindset. The firm manages its strategies in both fund and managed account format with approximately $3.6 billion under management (as of 11/30/2020).
"This year has been a challenge for everyone across both daily life and the investment landscape. We are very thankful that our team is healthy and has performed well throughout the year. Our consistent process and risk management have been key reasons for our performance this year"
– Art DeGaetano, CIO and Founder of Bramshill Investments.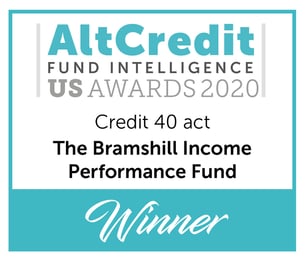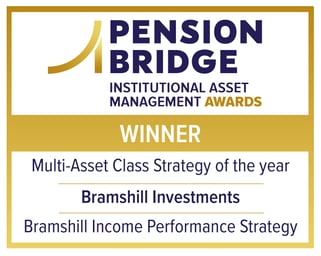 For more information about the firm, please contact Bramshill Investments at 201-708-8150 / investorrelations@bramshillinvestments.com
[1] Entry is available to U.S. and Canadian managers that have a minimum $50 mm in AUM and submit an application and performance data to AltCredit Intelligencefor consideration. A judging panel consisting of leading institutional and private investors and industry experts judge the applicants based on performance, qualitative information and structural criteria.
[2] The judging is 2-stage.The first stage uses purely the quantitative elements to derive leader boards from the entries. These leader boards inform and populate the shortlists for each category, who go through to the second stage of judging where a panel of independent and impartial judges from Institutional Investors and Consultants ensure firstly that the data is correct and use their knowledge and the qualitative elements of the entry process to decide on the winners by category. All data requested is through June 2020.

Bramshill Investments, LLC is an investment adviser registered with the United States Securities and Exchange Commission.
These awards are not to be construed as a testimonial or endorsement concerning Bramshill or its advisory services and past performance may not be indicative of future results.
Investing involves risk, including the potential loss of principal, and there can be no assurance that any particular product or strategy will prove profitable. Past performance does not guarantee future results. The Firm's CIO and Founder began managing the strategy in January 2009, while associated with an unaffiliated investment firm, and transitioned the strategy to Bramshill upon its founding in May 2012.

The fund's investment objectives, risks, charges and expenses must be considered carefully before investing. The prospectus contains this and other important information about the investment company and it may be obtained here or by calling (877) 272-6718. Read it carefully before investing.

Bramshill investments, LLC is the investment adviser to the fund. The fund is distributed by Quasar Distributors, LLC.
SOURCE Bramshill Investments, LLC